We will have activities tonight in both gyms on the Macon campus. Volleyball will host Sullivan for their home opener in the middle school gym. The 7h grade game will begin at 6:00 p.m. The 7th grade Okaw Jr. High Conference Tournament will wrap up in the high school gym with our Hawks playing at 5:00 p.m. If you are coming for the volleyball game, please use the MMS parking lot and front doors for entry. If you are coming for the basketball tournament, please use the MHS parking lot and front doors for entry. In addition, 8th grade will play their last game of the Conference Tournament in Warrensburg at 6:15 p.m. Go Hawks!

Please note - There will NOT be a 6th grade volleyball match tomorrow (1/12) against Sullivan. The 7th grade match will begin at 6:00 p.m. in the MMS gym.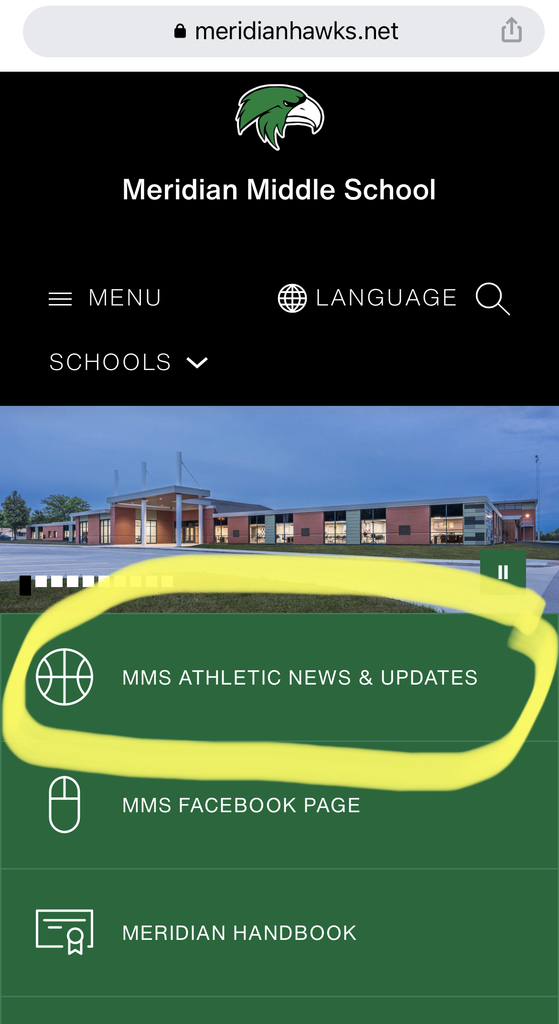 The 8th grade Lady Hawks ended their season tonight with a loss to Pana Jr. High (7-32). We are proud of our girls for working hard to improve skills all season. We hope to cheer the 8th graders on at MHS next year! 💚🏀

A special thanks to Mrs. Perrey and her art club for creating this awesome mural for Veterans Day. Students are also encouraged to wear red, white, & blue this Friday. Thank you to all the Veterans who have served our country!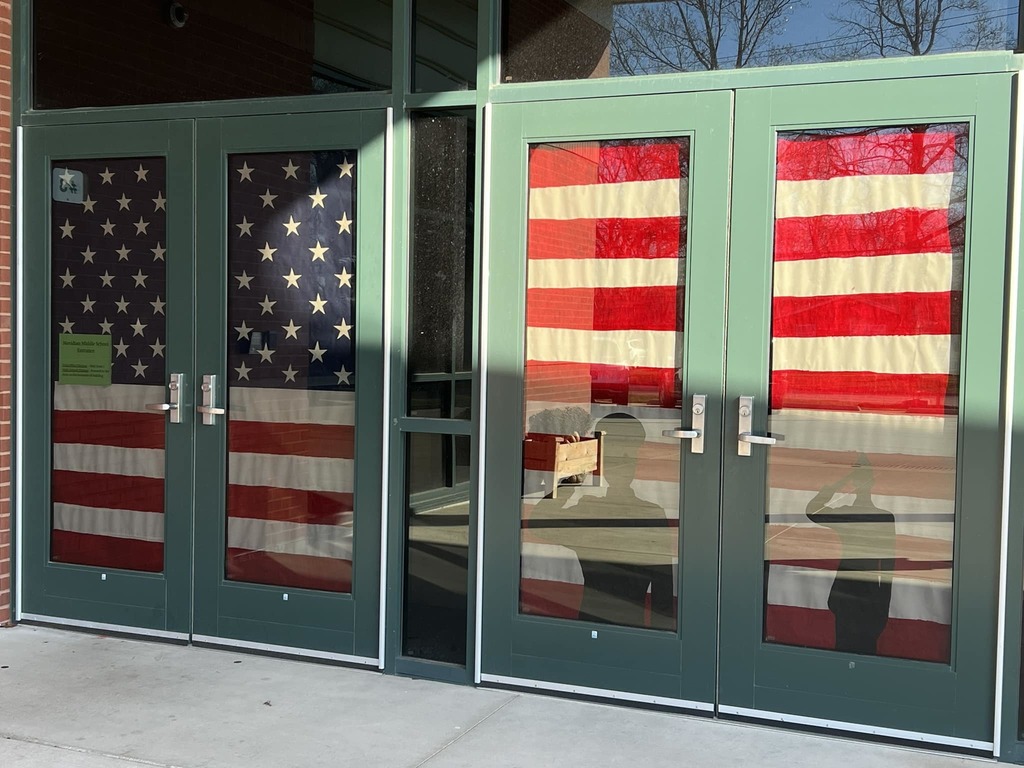 The girls' basketball game on Tuesday, November 8 will be played at Sangamon Valley. The 7th grade game will begin at 5:00 p.m.

Our 7th grade boys will kick off their basketball season this Saturday at the 7th grade Pana Jr. High Tournament. To allow for Central A&M fans to make it to their playoff football game, our game time has been changed. The Hawks will play Vandalia at 11:00 a.m. The new bus time for the boys is 9:45 a.m. Go Hawks!

Eleanor Moyer recently auditioned and made the District 5 ILMEA Band. She will perform in the ILMEA Festival at Eastern Illinois University on Saturday, November 19. Congratulations, Eleanor!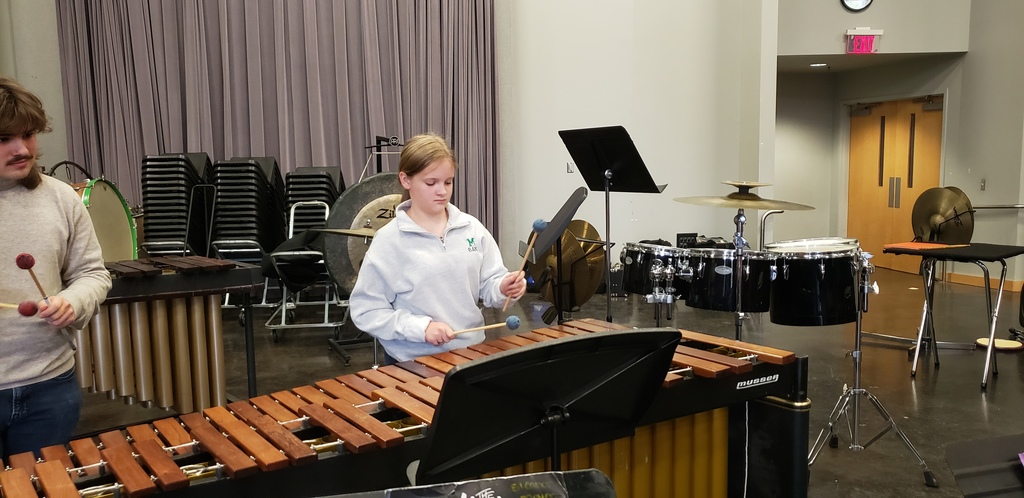 Don't forget that Michael DeLeon will be at Johns Hill Magnet School (in the auditorium) tomorrow - Thursday, October 13 - from 6:00 - 7:30 p.m. He will be speaking on the latest drug trends, the FENTANYL epidemic, and what we need to know to keep our kids safe! This is the same presenter we had come in last spring to discuss the dangers of vaping/JUUL with our students. If you can't make the actual event, it will be streamed live here -
https://youtu.be/2K9wSPvXNUs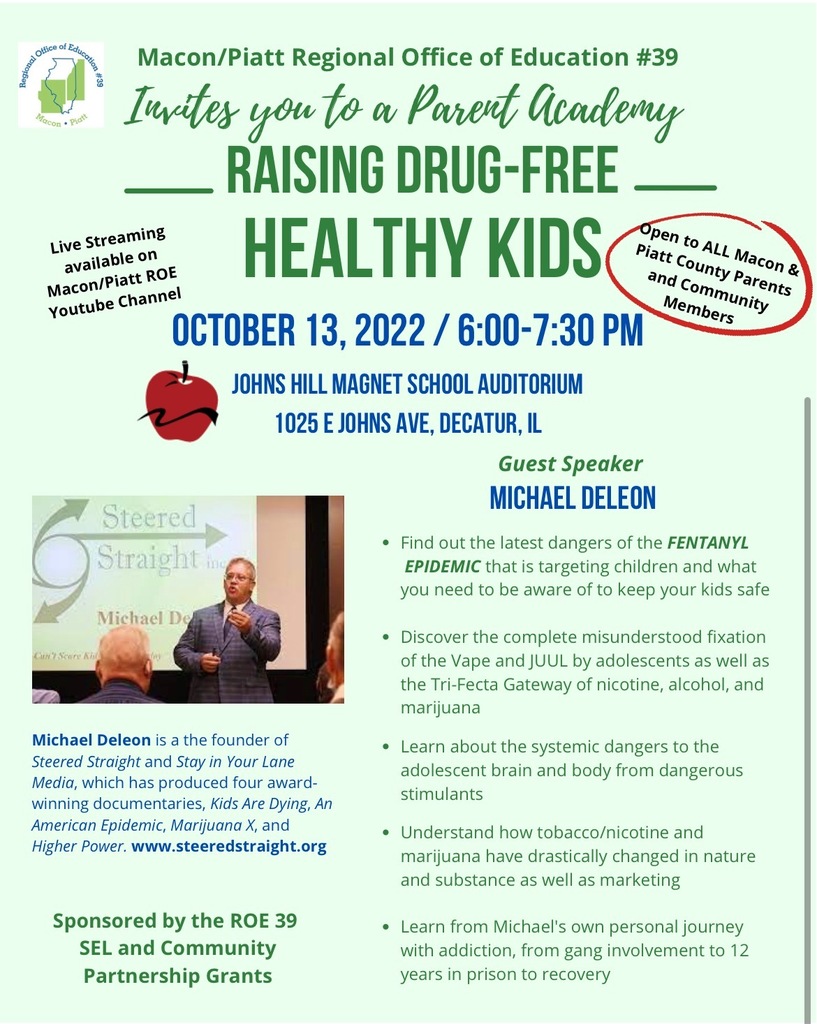 Just a reminder - Effective immediately because of construction, our drop off/pick up locations for students at both MMS and MHS have changed. All car riders should be dropped off at the MHS entrance. With the drive being closed near the baseball diamond, all cars should enter and exit on the north drive by the softball field. Buses will be dropping off/picking up out front of the MMS building using the circle drive. Cars SHOULD NOT enter that area until after 8:00 a.m. If you will be picking up your child before 2:00 p.m., you can do so at the MMS entrance. Otherwise, you will need to pick up at the MHS doors. If your child is going home from school sick, we will still utilize door #2 near the nurse's office/Unit office. Thank you in advance for helping with this!

1st quarter midterm reports were sent home with students earning at least one D or F in a Core subject. These reports need to be signed and returned to the appropriate grade level teacher. In addition, all returning students received their 21/22 IAR reports.

The IESA Softball Regional Bracket has been posted! The Lady Hawks will play on Wednesday, September 7. Go Hawks!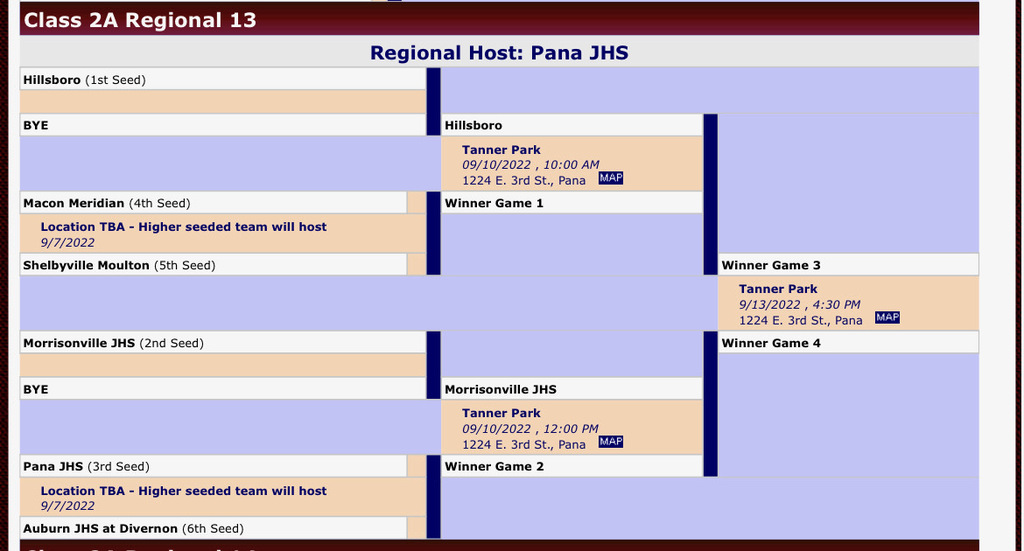 Please disregard the lunch message you may have received that indicates your child's account is negative. This was an error with the system. Sorry for the confusion!


1st semester class schedules were emailed to parents/guardians at the beginning of the week. If you have any questions or concerns, please email either
comerfordc@meridianhawks.net
or
mcguirem@meridianhawks.net
. The MMS building will be open Monday-Friday from 8:00 a.m. - 3:00 p.m. until school starts. Students are encouraged to visit the building before school starts to walk schedules, unpack school supplies, and practice the locker combination. To accommodate parent/guardian work schedules, the building will also be open on Monday, August 15 from 5:30 - 7:00 p.m. for a brief visit. If you would like a printed copy of your child's schedule prior to visiting, please email that request to Mrs. Comerford at
comerfordc@meridianhawks.net
.

Online registration information for the 22/23 school year will be emailed mid-July. If your email address has changed or your child will not be attending MMS in the fall, please email the office!

The 22/23 school supply list for Meridian Middle School can be found here -
https://5il.co/1az3r
. The PE uniform that students are required to wear daily consists of kelly green shorts and either a Meridian or solid gray/black/white t-shirt. If you would like to order a pair of shorts through the school, please order here -
https://forms.gle/WMSCEjnhdS1L68Xz8
.

There will be an informational parent/player meeting on July 17th at 6:00 PM in the middle school cafeteria for any middle school girl interested in trying out for middle school softball this fall. Try-outs will begin on Monday, July 25th at 3:00 PM. Any questions can be directed to Coach Butler at
butlerg@meridianhawks.net
.

Reminder - There is no school tomorrow - Monday, June 20. We will see our students in summer school on Tuesday!