We have the following positions posted: Elementary School Part-Time Speech & Language Pathologist: Meridian CUSD #15 is seeking applicants for an anticipated opening for a part-time speech and language pathologist (SLP). Applicants must be certified. Please direct inquiries/letter of interest and credentials to Lori Guebert, Principal- Meridian Elementary School, 509 S. Lewis St., Blue Mound, IL 62513 (
guebertl@meridianhawks.net
). Application deadline: until the position is filled. Elementary School Nurse: Meridian CUSD #15 is seeking applicants for an elementary school nurse. 190 days, 7 hrs a day, IMRF benefits, sick days, personal days, and health insurance coverage; hourly rate of pay: $32.84 (RN) or $24.38 (LPN). Please direct inquiries/letters of interest and resume to Lori Guebert, Principal- Meridian Elementary School, 509 S. Lewis St., Blue Mound, IL 62513 (
guebertl@meridianhawks.net
). Application deadline: until the position is filled.

Congratulations to Kaylin Moreland- IHSA 100 meter Girls' 1A STATE CHAMPION!!

Meridian used 1 emergency/snow day this school year. The last day of school for students at this time is Wednesday, May 24. (excluding Seniors) Registration for the 2023-2024 school year will begin with on-line access on Tuesday August 1 for returning students to the district. For new students to the district, registration must take place in person at the student's school office on Thursday August 3 (8:00-2:00 pm or by arranged appointment after that date).

Progress is being made on our Ag facilities and the Greenhouse is near completion!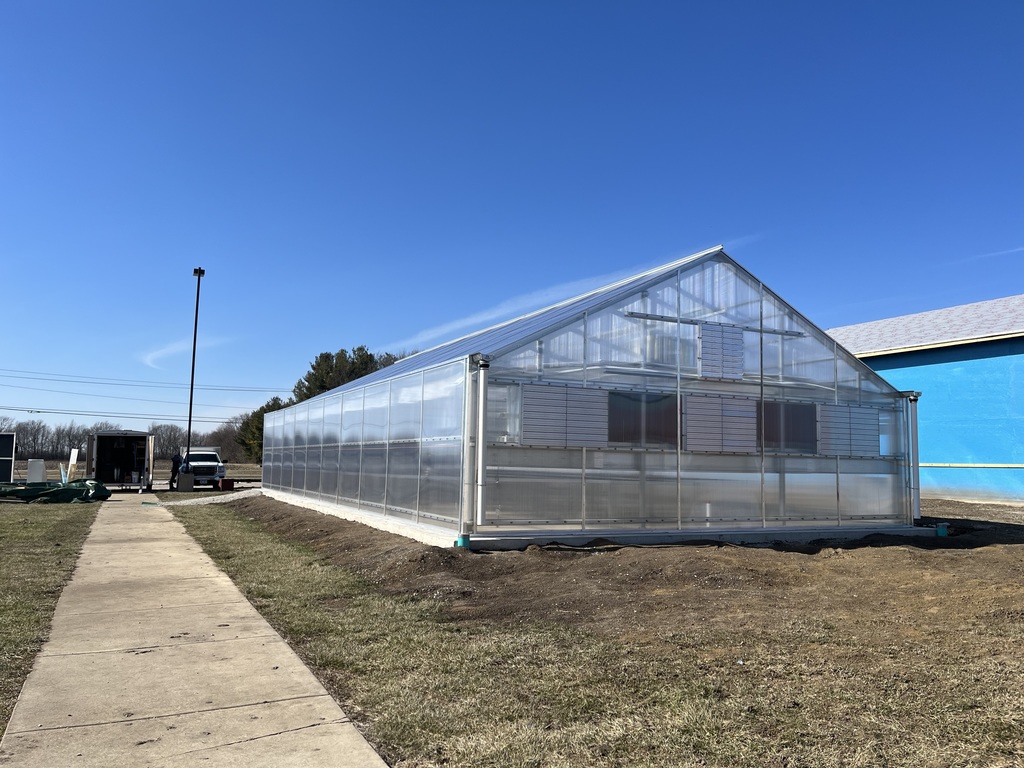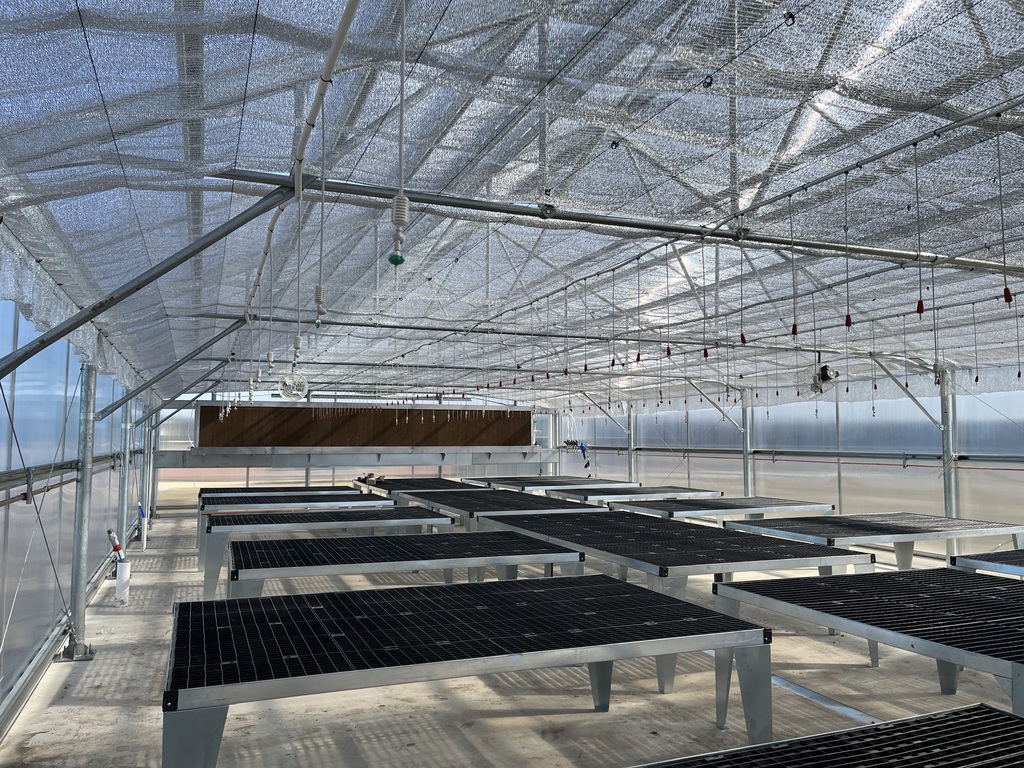 Meridian schools will be closed today, Wednesday, January 25th, due to weather conditions.

Beginning Monday, October 3, 2022, the drop-off and pick-up of students at the Macon campus for Middle School & High School students will need to be modified while contractors begin work on the new Ag Facilities near the Middle School building. All bus routes will drop-off and pick-up at the Middle School entry area. The High School entry area will be used for students being dropped-off and/or picked- up by personal vehicles. Those vehicles should enter and exit the campus using the north entry area of the campus at Macon Drive which is the drive that leads to the athletic fields parking areas and continues on to the entry area of the High School. In addition, all student drivers will also be required to use the Macon Drive entry & exit area during the construction period (October 3- mid March). For all High School athletic events, visitors should also use the Macon Drive entry & exit area. For Middle School athletic events, visitors will still be able to utilize the parking areas near the Middle School entry area with some parking restrictions in place for the south lot that is adjacent to the construction area. Thank you for your cooperation during this time period!

Four seats on the Meridan Board of Education will be up on the April 4, 2023 election. Candidates can begin circulating nominating petitions now through December 12th. Those can be picked up in the District Office- 728 S. Wall St. in Macon.


Meridian extends our condolences to the family of Coach Dennis Gatchel. He provided memorable experiences for the community while coaching and teaching the Ironmen of Macon and also the Hawks of Meridian (among his coaching & teaching career). He had a great career and we were lucky to have him!

Meridian extends our condolences to the family of Dick McDonald. Coach McDonald passed away yesterday. The former Blue Mound Knights' coach established a legendary career and was a respected, positive influence for former ,students, athletes and colleagues in the area!

On-line registration for the 2022-2023 school year for returning students will be available on Monday, July 18 through our student management program (SIS).

Congratulations to the Class of 2022! Good luck to the HS girls' softball team: Regional Champions and now on to Sectionals!

BLOOD DRIVE: American Red Cross. Seniors Keagan Kantor and Lexi Jones are hosting a Blood Drive with the Red Cross on Wednesday April 13 at the Decatur Civic Center. Timeslots to donate are available after 3 pm. Simply go to:
https://www.redcrossblood.org/give.html/drive-results?zipSponsor=MeridianHS
Please help meet their goal for donations that directly benefits our local Red Cross!

Two pep assemblies tomorrow for our boy's b-ball team before their SuperSectional game at Carbondale. The boys will be at MES at 9am and the HS 10:30. These are open to the public for those who want to attend.

Tickets for Monday's SUPER-SECTIONAL game at SIU Carbondale will go on sale tomorrow in the Great Hall at the high school. Tickets are $10 and are reserved seating. Sat. 3/5 Ticket Sales: ◦ 12-12:30 Players/Coaches/Athl Officials Families ◦.12:30-1 Cheerleaders Families ◦ 1-1:30 District Faculty/Staff ◦ 1:30-2:30 Student Section ◦ 2:30-4:30 General Public Sun. 3/6 Ticket Sales: TBD

Congratulations to the boys' basketball team on their Sectional win over Tuscola! On to Super-Sectionals - Monday. Preliminary plans include an early dismissal for all Meridian students on Monday (March 7). 11:10 for Macon campus and 11:30 for MES. More information to be provided tomorrow. WE ARE MERIDIAN!

Meridian Schools will have an e-learning day for Friday, February 18th due to the continued winter weather conditions for our area. Students should follow the directions previously provided for accessing instructional activities and please direct any questions to the building principal or your student's teacher.

Meridian K-12 students will have an early dismissal today due to the inclement weather forecasted for the area this afternoon. The Macon campus will dismiss at 11:10 am and the Blue Mound campus will dismiss at 11:30 am. The Pre-K program has been cancelled for today.

The Meridian Pre-K program will not meet tomorrow (Thursday February 17) due to the possibility of an early dismissal for students in K-12 as a result of inclement weather conditions. By not having Pre-K sessions, we can be better positioned to provide busing if needed for the possible early dismissal.

The Meridian Board of Education provided the following statement today at the scheduled special board meeting: Effective immediately, the use of masks will temporarily NOT be required in our schools within the Meridian CUSD #15 District until further notice, but the use of masks is still recommended. As always, we expect all students, faculty and staff to be respectful of others' decisions on masking at school. There have been many tough decisions to make throughout the pandemic. While very many of us within the Meridian District have not agreed with the mandates issued by the State, and the strong-arm tactics that the State and others within our own District have used to try to ensure compliance to these mandates, we have demonstrated and maintained a high standard of civil discourse for our students to see and follow. At the beginning of the school year, it was agreed the most important issue was getting our children back to school as well as not jeopardizing the long term sustainability of our District to be able to provide an education to the children of our District. It is understood that the vast majority of people within our District are very ready to unmask. We have all likely seen the news clips of other places where there was unrest that did not end peacefully. We have also likely seen where other States, operating similar to Illinois, have recently changed their masking policies. The path that many school districts throughout Illinois have been traversing has temporarily changed given the ever-changing landscape that continues to evolve daily. Until further future ruling(s) from the Judicial Branch occur, in the interim the Meridian District will deem null and void the terms of the previous executive mandates issued by the Governor of Illinois. The Temporary Restraining Order issued by a Sangamon County judge last week is a victory for freedom of local control - an opportunity for decisions to be made within our District and not in Springfield or Chicago. There has been confusion and mis-information floating around the general public about the ruling on Friday Feb 4. Even though Governor Pritzker, on the afternoon of Wednesday Feb 9, issued a statement indicating that he will lift the indoor mask mandate at the end of February, he is still excluding K-12 schools from that action. It is apparent that the legal proceedings and appeals stemming from the ruling will continue and may take longer than originally thought. The reasoning behind staying status quo locally was to avoid even more confusion being created, as different statewide parties continue to try to make decisions for local school districts, until things come to a natural close in our State's Judicial Branch. This possibility still exists, but it is now believed that a final ruling on the case may take several weeks. Please note that the District's original decision back in August was to have masking recommended but not required – but our local decision was trumped by the statewide mask mandate imposed by Gov Pritzker, and the threats and actions taken by the Governor's bureaucrats for funding being lost for any Districts that did not comply. We are making this change with the hope that our District can end the divisiveness and come together to support each other regardless of political bias, ideology bias, or whether one chooses to wear a mask or not. While the belief remains that the status quo decision was the right one, we have all seen almost all school districts in the area who made this same decision, reverse course this past week. In the end, our District simply asks for all to have just a little more patience and understanding as we hopefully near the end of this weary chapter of our existence.